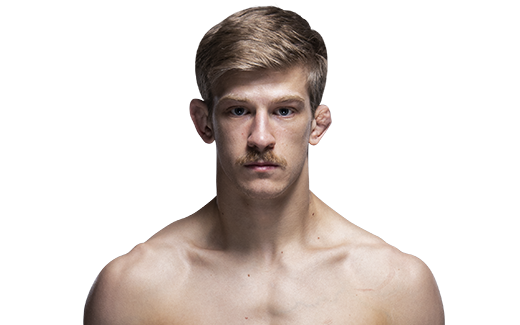 Naam: Arnold Allen
Bijnaam: Almighty
Record: 13 – 1 – 0 (UFC 4 – 0 – 0)
Geboortedatum: 17-01-1994
Geboorteplaats: Suffolk, Engeland, Verenigd Koninkrijk
Nationaliteit: Engels
Lengte: 1.73m (5ft 8in)
Gewicht: 66kg (145lb)
Divisie: Featherweight
Vecht uit: Trimley St.Martin, Suffolk, England, UK
Gym: Tristar
Actief: 2012 – heden
Twitter: @Arnoldbfa

Arnold Billy Allen kwam in Juni 2016 op short notice de UFC binnen. Daar verraste hij tegenstander Alan Ömer door hem in de derde ronde te finishen via een Ninja Choke Submission (soort van omgekeerde Guillotine). In Februari 2016 vocht Allen in Londen tegen de Amerikaanse veteraan Yaotzin Meza. Allen domineerde het gevecht en nam een Unanimous Decision mee naar huis. Vervolgens stond Allen in Oktober 2016 gepland om het op te nemen tegen Mirsad Bektic tijdens UFC 204 in Manchester.
Helaas voor Allen raakte hij tijdens training geblesseerd, en moest hij de partij afzeggen. Allen keerde vervolgens terug in Maart 2017 in Londen tegen de Fin Makwan Amirkhani. In een zeer gelijkwaardig gevecht was het uiteindelijk Allen die er met een Split Decision overwinning vandoor ging. Allen zou vervolgens tijdens UFC 220 in Januari 2018 zijn opwachting maken tegen de Peruviaan Enrique Barzola. Echter kreeg Alleen zijn visum niet rond waardoor hij niet zou kunnen vechten.
Allen keerde vervolgens terug tijdens UFC Liverpool in Mei 2018 tegen de Deense BJJ specialist Mads Burnell. Burnell controleerde het gehele gevecht, maar kwam uit het niets vast te zitten in een Ninja Choke van Arnold Allen. Allen won hiermee alsnog en kreeg de Performance of the Night bonus.
UFC RECORD
Res.
Tegenstander
Methode
Ronde
Evenement
Datum
Notities
NB
Gilbert Melendez
NB
– (-:–)
TUF 28 Finale
30 Nov. 2018
Win
Mads Burnell
Submission (Ninja Choke)
3 (2:41)
UFC FN 130: Liverpool
27 Mei. 2018
Win
Makwan Amirkhani
Decision (Split)
3 (5:00)
UFC FN 107: London
18 Mar. 2017
Win
Yaotzin Meza
Decision (Unanimous)
3 (5:00)
UFC FN 84: London
27 Feb. 2016
Win
Alan Ömer
Submission (Ninja Choke)
3 (1:41)
UFC FN 69: Berlin
20 Jun. 2015
UFC Featherweight Debut