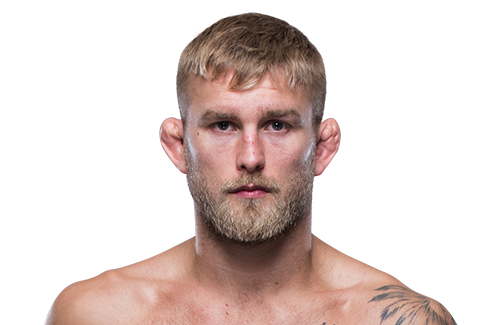 Naam: Alexander Gustafsson
Bijnaam: The Mauler, The Viking
Record: 18 – 4 – 0 (UFC 10 – 4 – 0)
Geboortedatum: 15-01-1987
Geboorteplaats: Arboga, Zweden
Nationaliteit: Zweeds
Lengte: 1.95m (6ft 5in)
Gewicht: 93kg (205lb)
Divisie: Light-Heavyweight
Vecht uit: Stockholm, Zweden
Gym: Alliance MMA
Actief: 2007 – heden
Twitter: @AlexTheMauler

Alexander Lars-Åke Gustafsson is al jaren niet meer weg te denken uit de Top 5 van de UFC Light-Heavyweight divisie. De Zweed maakte in 2009 als ongeslagen vechter zijn UFC debuut tegen Jared Hamman. Via KO binnen een minuut wist Gustafsson zijn debuut bij de UFC extra elan te geven. Echter ging het in zijn tweede gevecht voor de organisatie mis voor de Zweed. Phil Davis wist via een Anaconda Choke Submission vlak voor het einde van de eerste ronde Gustafsson tegen de Octagon vast te klemmen en de overwinning te pakken. Vervolgens weet Gustafsson maar liefst een 6 fight winstreak op te bouwen met onder andere overwinningen tegen Vladimir Matyushenko, Matt Hamill, Thiago Silva en Maurico "Shogun" Rua. Die laatste overwinning leverde Gustafsson in 2013 een titelgevecht op tegen Jon Jones. In een zeer competitief gevecht won Jon Jones uiteindelijk via Unanimous Decision, maar veel mensen vonden dat niet Jones maar Gustafsson duidelijk gewonnen had.
De Zweed mocht vervolgens tijdens UFC Fight Night 37 in Londen zijn revanche pakken tegen de ongeslagen Jimi Manuwa. Gustafsson versloeg Manuwa in de tweede ronde via KO en leek weer op weg naar een titelgevecht. Echter kwam aan die titelaspiraties in Januari 2015 een voorlopig einde nadat Gustafsson voor eigen publiek KO werd geslagen door Anthony Johnson in de eerste ronde. Gustafsson liep met zijn ziel onder zijn arm en dacht aan stoppen. Mede door blessures en het uitblijven van échte contenders kreeg Gustafsson alsnog een titelgevecht in het najaar van 2015 tegen Daniel Cormier. In een zeer leuke en gelijkwaardige partij moest Gustafsson opnieuw het onderspit delven. Ditmaal via Split Decision. In September 2016 doorbrak Gustafsson zijn 2 fight losing streak door Jan Blachowicz via Unanimous Decision te verslaan. Gustafsson keerde vervolgens terug tijdens UFC Stockholm in Mei 2017 tijdens het Main Event tegen Glover Teixeira. In een fenomenaal gevecht van Gustafsson leek de Zweed herboren, en won hij via KO in de vijfde ronde.
UFC RECORD
Res.
Tegenstander
Methode
Ronde
Evenement
Datum
Notities
Win
Glover Teixeira
KO (Punches)
5 (1:07)
UFC FN 109: Stockholm
28 Mei 2017
Win
Jan Blachowicz
Decision (Unanimous)
3 (5:00)
UFC FN 93: Hamburg
3 Sep. 2016
Loss
Daniel Cormier
Decision (Split)
5 (5:00)
UFC 192
3 Okt. 2015
UFC Light-Heavyweight Titlefight
Loss
Anthony Johnson
TKO (Punches)
1 (2:15)
UFC on FOX 14: Stockholm
24 Jan. 2015
Win
Jimi Manuwa
KO (Knee & Punches)
2 (1:18)
UFC FN 37: London
8 Mar. 2014
Loss
Jon Jones
Decision (Unanimous)
5 (5:00)
UFC 165
21 Sep. 2013
UFC Light-Heavyweight Titlefight
Win
Mauricio "Shogun" Rua
Decision (Unanimous)
3 (5:00)
UFC on FOX 5: Seattle
9 Dec. 2012
Win
Thiago Silva
Decision (Unanimous)
3 (5:00)
UFC on Fuel TV 2: Stockholm
14 Apr. 2012
Win
Vladimir Matyushenko
TKO (Punches)
1 (2:13)
UFC 141
30 Dec. 2011
Win
Matt Hamill
TKO (Punches & Elbows)
2 (3:34)
UFC 133
6 Aug. 2011
Win
James Te Huna
Submission (RNC)
1 (4:27)
UFC 127
27 Feb. 2011
Win
Cyrille Diabaté
Submission (RNC)
2 (2:41)
UFC 120
16 Okt. 2010
Loss
Phil Davis
Submission (Anaconda Choke)
1 (4:55)
UFC 112
10 Apr. 2010
Win
Jared Hamman
KO (Punches)
1 (0:41)
UFC 105
14 Nov. 2009
UFC Light-Heavyweight Debut