De UFC heeft een Heavyweight gevecht toegevoegd aan de UFC Fight Night 137 card in São Paulo, Brazilië. De Amerikaan Chase Sherman maakt zijn opwachting op 22 September 2018 tegen de kersverse Braziliaanse aanwinst Augusto Sakai. Dit wist Nolan King via FloCombat bekend te maken. Beide vechters ontmoeten elkaar in de Octagon van het Ginasio do Ibirapuera.
Augusto Sakai (MMA 11-1-1/UFC 0-0-0) is een Braziliaanse MMA vechter met Japanse roots. Sakai begon zijn Pro-MMA carrière in 2011. Nadat hij zijn eerste vier gevechten gewonnen had in de regionale Braziliaanse organisaties via (T)KO in de eerste ronde contracteerde Bellator MMA de Braziliaan. Sakai won zijn debuut via TKO in de tweede ronde tegen Rob Horton. Na vervolgens nogmaals voor een Braziliaanse organisatie gevochten te hebben keerde Sakai terug bij Bellator. Sakai pakte drie achtereenvolgende overwinningen waaronder een TKO win tegen Daniel Gallemore. Vervolgens werd voor het eerst niet gewonnen. Een partij tegen Dan Charles eindigde in een Majority Draw. Sakai werd vervolgens gekoppeld aan Cheick Kongo. Kongo won via Split Decision en bezorgde Sakai zijn eerste verlies van zijn carrière. Sakai keerde terug in Brazilië waar hij een overwinning pakte voor de Imortal FC organisatie. Vervolgens werd Sakai uitgenodigd om deel te nemen aan de Braziliaanse versie van de Dana White's Contender Series. Sakai won zijn gevecht tegen Marcos Conrado via TKO in de tweede ronde en dwong daarmee een contract af bij de UFC.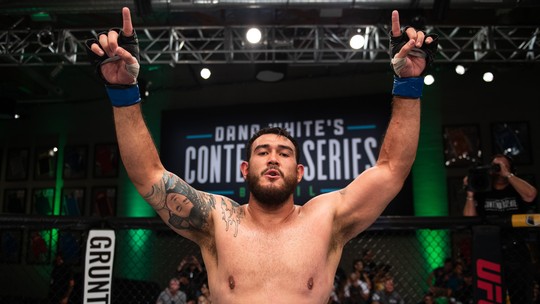 Chase Sherman (MMA 11-5/UFC 2-4) maakte in Augustus 2016 zijn debuut voor de UFC. Sherman won al zijn negen gevechten voordat hij de UFC binnen kwam via (T)KO. Hij stond tegenover Justin Ledet die eveneens zijn UFC debuut maakte. Ledet bleek te sterk en won via Unanimous Decision. Sherman, de voormalig FFI kampioen moest het vervolgens opnemen tegen Walt Harris. Ook dit keer wist Sherman niet te overtuigen en verloor hij via KO in de tweede ronde. Sherman zou het vervolgens op short notice gaan opnemen tegen Dmitry Poberezhets, echter raakte Poberezhets geblesseerd en kreeg hij nieuwkomer Rashad Coulter als tegenstander toegewezen. Beide mannen maakten er een spektakelstuk van. Uiteindelijk wist Sherman het gevecht te beslissen via TKO in de derde ronde. Beide mannen kregen de Fight of the Night bonus toegewezen. Sherman zou vervolgens in Juli 2017 op short notice invallen voor Christian Colombo tegen de Pool Damian Grabowski. Sherman had weinig moeite met de Pool en wist betrekkelijk eenvoudig via Unanimous Decision zijn tweede overwinning in de Octagon veilig te stellen. Vervolgens keerde Sherman in November 2017 terug tijdens UFC Shanghai tegen Shamil Abdurakhimov. Abdurakhimov bleek te sterk en won vroeg in de eerste ronde via KO. Sherman kon ook vervolgens in April 2018 het tij niet keren. Tijdens UFC Atlantic City werd via Unanimous Decision verloren van Justin Willis.
Blijf MMA DNA in de gaten houden voor het laatste MMA nieuws uit binnen-en buitenland.